Dilma Rousseff: the 'iron lady' battling for survival
Comments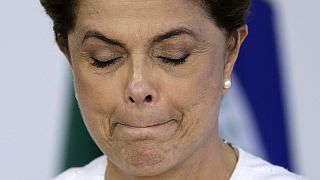 Dilma Rousseff was first sworn in as the first female president of Latin America's biggest economy in January 2011.
She won an election run-off on the back of a booming economy and the backing of her predecessor, Luiz Inacio Lula da Silva.
The rise of Rousseff
Rousseff was born into a middle-class family in 1947. The daughter of a Bulgarian immigrant, she went on to study economics.
She later joined a radical leftist resistance group after a coup in the mid 60s gave rise to a military dictatorship.
Rousseff was captured and jailed for three years on subversion charges.
Rousseff's political breakthrough
Her political breakthrough came when she was energy minister, wowing Lula with her management and technical skills.
Becoming his chief of staff, she was dubbed the iron lady for her demanding style. Rousseff took charge of several infrastructure projects.
She also chaired the board of directors of state-owned oil company Petrobras.
During her first term as president, Brazil's economic boom began to crumble.
Protests erupt
In June 2013, public anger spills out onto the streets in Rio and Brasilia. Protesters vent their anger over poor public services.
In 2014, Rousseff seals a second term in office – by only just, with a slim majority. She overcame the protests against her and the fears over the sluggish economy.
And then there is political crisis that threatens to topple Rousseff.
Rousseff flies into storm
Lula is questioned as part of a graft probe, centred on the state oil company Petrobras – his political foundations in Brazil are rocked.
The wave turns against Rousseff, with millions of Brazilians joining anti-government rallies.
She now faces impeachment moves, economic turmoil and the corruption scandal.
The impeachment battle is dividing the country and has also sparked a bitter battle between her and Vice President Michel Temer.