Rodrigo Duterte: from "The Punisher" to president
Comments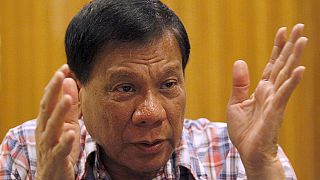 He has been called a "maverick" and nicknamed "Digong Duterte". The 71-year-old former mayor of Davao is perhaps the least orthodox politician to reach the pinnacle of power in the Phillipines.
Rodrigo Duterte is charismatic with a talent to seduce crowds with his speeches and to get results. His record as the crime-busting mayor of Davoa, which was once notorious for its lawlessness earned him the moniker "The Punisher".
He has promised to do the same as president saying he will sweep away criminals and corrupt officials.
"If I become president, I will order the military and the police to hunt down the drug lords, the big ones and kill them," he told a rally.
His incendiary comments on the campaign trail have stirred controversy. But it served to strengthen his popularity and reinforce the image of a politician who means business.
"If you are involved in drugs ….then I will kill all of you. I have no patience for that. I have no middle ground there. Either you kill me or I will kill you idiots. Don't try and fool me," he warned.
His rise to power is a testament to the frustration of Filipinos. His election campaign highlighted the pervasive corruption, as well as poverty and inequality experienced by many Filipinos.
"It's the unorthodox style that actually caught the electorate's attention. And then after shocking and awing them, he tapped on an emotional feeling of frustration and anger," opined Julio Teehankee, Dean, College of Liberal Arts – De La Salle University.
He has boasted of his adulterous relationships and has fathered four children from four different women. He infuriated women's groups and politicians when his comments on the rape of an Australian missionary in a prison went viral.
He said inmates had lined up to rape the missionary who had been visiting the jail.
"She looks like an artist from America. It's such a waste. What went on in my mind as they lined up and raped her. I got angry because she was raped, yes that's part of it, but she's beautiful and the mayor should be the first one. So, I killed them all, that's the story," he explained to his supporters."
Roderigo Duterte was born in 1945 to a Muslim mother and a Catholic father and entered politics in 1986 with the fall of dictator Ferdinand Marcos. He said he accepted the mandate of president with "extreme humility".