Duterte out in front in Philippine election
Comments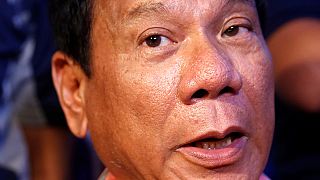 Most votes counted in Philippine election
Polls suggest the "Philippino Donald Trump" has a clear lead
Rodrigo Duterte calls for multilateral talks with China over the South China Sea
Exit polls suggest the hardline, anti-crime candidate Rodrigo Duterte will become the next president of the Philippines.
Most votes have been counted.
Rodrigo Duterte declares victory in Philippines election, vows to rewrite constitution https://t.co/GQgAjAVXcv

— The Guardian (@guardian) May 10, 2016
An offical poll monitor has given the outspoken 71-year-old an unassailable lead.
The winner is decided on a simple majority. With 90% of votes counted:
Duterte 14.8m (39%)
Roxas 9m (23%)
Senator Grace Poe in third place has withdrawn
(Get the latest accredited results here)
The official result has yet to be declared.
Who is Rodrigo Duterte?
The likely next president of the Philippines is a beloved, tough-talking, foul-mouthed, pope-bashing lightweight. https://t.co/htxpXb6l6k

— Foreign Policy (@ForeignPolicy) May 10, 2016
Mayor of the southern town of Davao
Known as "The Punisher"
Born 1945
Trained as a lawyer
It is a big step from Mayor to president, but Duterte has shown he is ready.
His first call was for multilateral talks over the South China Sea.
"I will say to China: do not claim anything there. And I will not insist that it is ours. But then I will just keep a blind eye and if you want a joint venture to get the gas and oil, then fine."
What was the turnout like?
Record, according to officials.
More than 81% of the 54 million people registered to vote turned out to do so.
The elections were for the president, vice-president, senators and around 18,000 local mayors.
Why is Duterte so controversial?
In his campaign to be president of the Philippines, Rodrigo Duterte has joked about rape and cursed Pope Francis: https://t.co/r1rsz9Bc0e

— New York Times World (@nytimesworld) May 10, 2016
A hero to many, Mr Duterte is a loose cannon to some.
He has made many controversial statements during his campaign, including joking about the rape of a missionary worker from Australia.
He also said he would massacre criminals and drug users.
Duterte also warned he would dissolve Congress if it did not agree with him.