'The Beast' wildfire burns out of control in Canada
Comments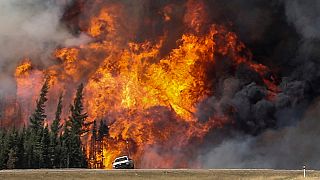 It has been raging for a week and is utterly out of control.
The Canadian wildfire that has forced tens of thousands to people to flee for their lives from Fort McMurray in Alberta is now threatening to spread destruction to the neighbouring province of Saskatchewan.
The blaze is already the size of London and continues to grow.
"We feel that there is a good potential that the fire will reach the Saskatchewan border by this evening," Alberta government wildfire prevention manager Chad Morrison told reporters on Saturday.
"We expect extreme fire behaviour through most of the day in those forested areas and it continues to move away from the community but it will continue to be a challenging day for firefighters."
Alberta's Municipal Affairs Minister Danielle Larivee said the fire was still out of control and warned residents not to try to return.
"I know … how very hard it is to be patient and how difficult it is not to know so many things. I know what it's like to wonder what is left from your home," she told a briefing.
What children packed before fleeing homes in Fort McMurray https://t.co/VuAwChIS8epic.twitter.com/oNwdRwmH7l

— CBC News (@CBCNews) 7 mai 2016
More than 500 firefighters are battling the blaze in and around Fort McMurray, along with 15 helicopters and 14 air tankers, the Alberta government said.
For those forced to leave their homes, a huge aid operation has swung into action.
We're responding to meet needs of individuals, families and communities impacted by #ABFire: https://t.co/xa0TIyfAy8pic.twitter.com/OJ39hTf8XX

— Canadian Red Cross (@redcrosscanada) 7 mai 2016
The fire has devastated a region rich in oil, with up to a quarter of Canada's oil output halted.
In what is expected to be the costliest natural disaster in Canada's history, evacuees are still making the harrowing journey through the disaster zone to escape the blaze they are calling 'The Beast'.