Canadian communities mobilise to help wildfire victims
Comments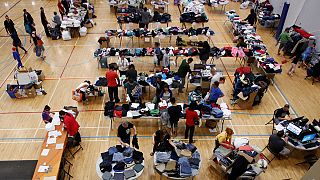 Many of those forced to leave their homes by the Canadian wildfire which has been spreading out of control are being accommodated in emergency shelters.
The Bold Center, a recreation hall at Lac La Biche, a small town about a two-hour drive south of Fort McMurray in Alberta, has been turned into an evacuation centre.
Volunteers have been helping to sort donations that have been pouring in.
Some people are realising they are going to be kept away from home for longer than previously thought.
"At first I thought, 'Well, maybe it'd be for a day or so, and we'll be back.' But then as we are leaving, and you see more and more of it, you know we are going to be out for a while," said Cheryl Cole, an evacuee from Fort McMurray, who drove south with her husband and pets.
Thank you so much to our wonderful residents who opened their homes to our Fort Mac neighbours. If you have any… https://t.co/b823SFfu65

— Lac La Biche County (@LacLaBicheCo) 7 May 2016
The local authority at Lac La Biche has been doing its best to provide for several thousand people who have been registered at the centre.
It has been trying to coordinate supplies of donations, and organising places to eat, places to play and places to rest.
"We have every service that people need to meet their basic needs, so we really are hearing great feedback from people, like 'I can't believe you guys have a kennel' or 'having insurance here is a good idea', or 'Service Canada applying for unemployment', or even – just a simple fact – we have things like cell phone chargers or computers that people can use," said Jihad Moghrabi, spokesman for Lac La Biche County.
Many other County communities have been hard at work collecting and dispersing supplies and clothes to evacuees… https://t.co/kPJcaysaio

— Lac La Biche County (@LacLaBicheCo) 7 May 2016
The evacuations mean nearly 100,000 people have been displaced by the fire. They include 500 American Indians who were moved out of their reserve.
It is estimated that insurance claims could top six billion euros.