Archaeologists clash in Cairo over Tutankhamun secret burial chambers
Comments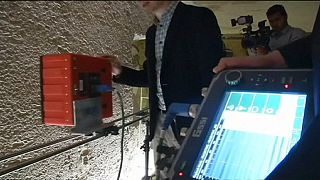 Archaeologists have clashed at a conference in Cairo over whether or not there could be secret burial chambers behind Tutankhamun's tomb.
British Egyptologist Nicolas Reeves believes there could be hidden chambers behind the walls, possibly containing the tomb of Queen Nefertiti.
"If I'm right in my understanding of reading of the evidence to suggest there may be a burial of Nefertiti behind the north wall, surely that's worth going the extra mile," Reeves declared. "But you know, I haven't got a crystal ball, I don't know, I don't know what the future holds in store."
The Egyptian Antiquities Minister, Zahi Hawas, rejects the theory, saying it has no scientific basis. The two men apparently refused to shake hands at the conference on Sunday.
"I believe we should not close the subject, because Reeves could say: 'the Egyptian government did not give me the opportunity to prove my theory'. I asked and I did announce that we need a third radar and that third radar should go to the tomb and make a survey", said Hawas.
Tutankhamun's burial chamber was discovered in 1922 in the Valley of the King by British archaeologist Howard Carter.
Recent radar scans of the tomb have shown the presence of two empty spaces behind two of the walls.
The scans are set to continue but Egyptian authorities say they won't allow any physical exploration unless they can be "100 per cent sure" there is a hidden chamber.