Four million people face hunger from Zimbabwe drought
Comments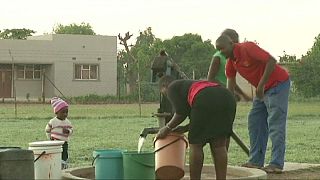 The number of people facing hunger in Zimbabwe due to drought has risen from three to four million, according to estimates.
The UN children's agency UNICEF says the poor southern African country is experiencing the worst drought in two decades – induced by a powerful effect from El Nino.
Earlier this year UNICEF warned that malnutrition was taking hold, with nearly one million children in eastern and southern Africa in need of treatment for acute malnutrition.
Water is also scarce in Zimbabwe. Women – the main care givers in many families – have to walk for long distances in search of supplies.
"The distance we have to cover to get to water is great. Sometimes we are carrying babies on our backs. I have had to leave my three-month-old baby at home. Look how dirty I am! There is a big water problem here," said one young mother, Mollen Jongwe.
#Zimbabwe: Thanks to USAID</a> WFP continues to provide relief for those effected by <a href="https://twitter.com/hashtag/ElNino?src=hash">#ElNino</a> : <a href="https://t.co/TXTibrmDAn">https://t.co/TXTibrmDAn</a> <a href="https://t.co/wxkW5ExTVs">pic.twitter.com/wxkW5ExTVs</a></p>&mdash; World Food Programme (WFP) 30 April 2016
In one screening exercise, health workers weigh children in Mwenezi in southern Zimbabwe, one of the worst hit regions.
The number being treated for malnutrition at the local hospital rose from four in January to 25 in March.
One mother, Solvine Chipenyu, brought her baby girl for treatment after she was diagnosed with kwashiorkor – a form of malnutrition common in developing parts of the world.
"When she first fell ill she shad stomach problems, then her feet started to swell so I took her to hospital," she said.
Aid agencies warn the lack of water may result in the spread of diseases like diarrhoea.
UNICEF is screening children in six of Zimbabwe's 33 districts, where they continue to record increasing malnutrition cases.
Drought and low mineral commodity prices taking their toll on the economy. The government has issued licences to private millers to import grain, while organisations such as the United Nations' World Food Programme are feeding one million people.
Earlier this year Zimbabwe's government declared a state of national disaster and appealed for 1.4 billion euros in food aid.
#BUSINESS : Climate change to cause 38pc decline in agric income – https://t.co/d6fLsdFIEWpic.twitter.com/kDfHDYa0Ow

— The Herald (@HeraldZimbabwe) May 2, 2016