Baghdad protesters leave Green Zone but vow to keep up pressure over corruption
Comments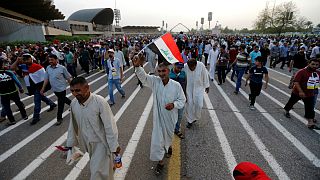 Protesters in Baghdad have left the Iraqi capital's Green Zone after invading the heavily-fortified district to stage a 24-hour rally against paralysis in tackling corruption.
But they have pledged to return by the end of the week to keep up the pressure.
The move by supporters of prominent Shi'ite cleric Moqtada al-Sadr follows months of political wrangling over the prime minister's attempts to replace partisan ministers with technocrats as part of an anti-corruption drive.
Powerful parties have resisted the changes, fearing the dismantling of patronage networks that sustain their wealth and influence.
"We will come back to demand the reforms and to fight against corruption and the corrupted. If our demands are not met, the people will use every legitimate means. At the very least we would take over the headquarters of the three governing powers," protest spokeswoman Ikhlas al Obeidi told the demonstrators.
Celebrations Square right now#Baghdad#Iraq
pic by Ali AlJazairy pic.twitter.com/YsInIJdlbM

— Hayder Al-Shakeri (@HayderSH) 1 May 2016
Prime Minister Haider al-Abadi toured the Green Zone on Saturday.
He has warned that the months-long crisis prompted by his attempts to overhaul the Cabinet could hamper the fight against ISIL.
Parliament's failure to approve the changes – and end the political quota system blamed for rampant corruption – prompted the protesters to take over the building on Saturday, where they danced, waved Iraqi flags and chanted pro-Sadr slogans.
The initial breach was mostly peaceful, but around sunset security forces fired tear gas and bullets into the air to stop more protesters from entering. Police sources said about a dozen people were wounded.
a proud woman sits on a piece of blast wall #GreenZone#Baghdad#Upbeatpic.twitter.com/rwPiEL0eo4

—

UPBEAT

(@Upbeat_book) 1 May 2016
The Green Zone, a 10-square kilometre district on the banks of the River Tigris which also houses many foreign embassies, has been off-limits to most Iraqis since the US-led invasion in 2003.
Among the demonstrators who breached the barriers on Saturday, there was shock at the contrast between the poverty in which most Iraqis live and the comparative luxury inside the fortified area.
"There is electricity and street lighting, there is more water here than I expected. Even the plants are different," one said.
Another added that he wanted the country's top officials removed. "They have done nothing good for Iraq, only destruction, sectarian wars, hunger and no services," he said.