Baghdad security under scrutiny after protesters invade Iraq parliament
Comments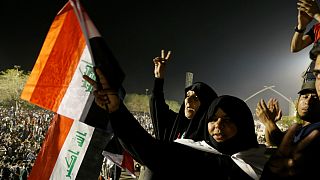 It was a protest that took the Iraqi security forces by surprise.
As hundreds of supporters of a prominent Shi'ite cleric invaded Baghdad's Green Zone and the country's parliament on Saturday, SWAT troops and presidential guard forces fired tear gas and bullets into the air to stop further incursions.
But otherwise it was a festive atmosphere as the protesters made their point, accusing politicians of dragging their feet in approving changes designed to stop corruption.
Some chanted "the cowards ran away!" in reference to the absent politicians.
They have been demonstrating for weeks, heeding their leader's call to put pressure on the prime minister to act on promises of reform.
Sadr's fighters once controlled significant parts of the city and helped defend it from the so-called Islamic State.
Speaking in another part of the city as he responded to the wave of protest, Moqtada al-Sadr said:
"Either they (the corrupt politicians) leave or the government will be brought down by the people without exceptions. I am here today to take the people's side, only the people. I will stop dealing with politicians except with those who want to change things. I'm waiting for the people's revolution."
Protesters enter the building of the council of ministers in #Baghdadpic.twitter.com/zIInuRwPUJ

— Rudaw English (@RudawEnglish) 30 April 2016
PHOTOGALLERY: #Iraqi protesters storm parliament in #Baghdadhttps://t.co/1khZq6wXN8

— Al Arabiya English (@AlArabiya_Eng) 30 April 2016
Earlier, the protesters broke into the heavily-fortified Green Zone housing government buildings including the parliament, as well as foreign embassies. Western compounds were locked down.
A guard at a checkpoint said the protesters were not searched before entering – although an armed group loyal to Sadr was said to have made some rudimentary checks.
The rally has refocused attention on a political quota system blamed for rampant corruption.
Prime Minister Haider al-Abadi wants to replace some ministers – chosen to balance Iraq's divisions – with technocrats to combat corruption. But political parties have resisted the changes.
The protests followed parliament's failure to complete a vote approving a planned ministerial reshuffle, designed to combat corruption.
"We are here to put pressure on the politicians because they are not honest, we demand a true stance by them to serve the Iraqi people," said Hakem Radi, one of the protesters.
Elsewhere, around 20 people were killed in a Baghdad suburb when a suicide bomber struck a gathering of Shi'ite pilgrims in an attack claimed by Sunni militants.