Atlanta Hawks secure place in NBA playoffs second round
Comments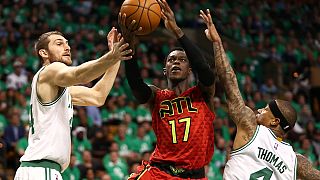 The Atlanta Hawks are through to the second round of the NBA playoffs.
They've snatched a 104-92 Game 6 victory away against the Boston Celtics.
Atlanta had six players in double figures in scoring.
Kyle Korver was among them, who tallied two of his 14 points on a basket in the fourth quarter – that gave his side a 93-71 advantage.
Boston outscored Atlanta 33-24 in the fourth quarter, but they ultimately fell short – Atlanta winning the series four games to two.
It is the first victory of its kind for the Hawks in Boston since 1988.
The Celtics last three playoff appearances have ended in first-round exits.