Home hope Mohamed Elshorbagy through to semis of El Gouna International
Comments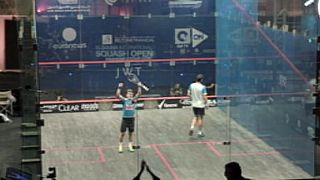 World number and home hope Mohamed Elshorbagy is through to the semi-finals of the El Gouna International Open in Egypt.
He sealed victory against Germany's Simon Rosner.
Elshorbagy took the first two games, before losing the third – and dominating the final clash.
Colombia's Miguel Rodriguez is also through to the semis – his first time – after wiping out third seed Omar Mossad from Egypt.
Rodriguez bounced back from a game down, to take the second and third – before recouping losses in the fourth and sealing victory.
The third match of the night was an all-Egyptian affair, but it was not an easy one.
Marawan Elshorbagy and Fares Dessouki's duel lasted 91 minutes – the referees had to make 72 decisions.
But Dessouki powered home, winning 3-2.
And world champion Gregory Gaultier kept his hopes of a place in the final alive.
The Frenchman beating Aly Farag of Egypt 3-2, after a five-setter, which finished after midnight in front of a big crowd.