Fighting ISIL: exclusive in-depth report from Iraq frontlines
Comments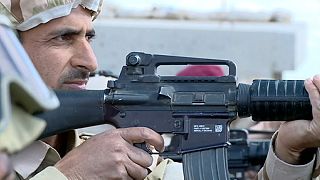 Join euronews correspondent Mohammed Shaikhibrahim on a brutal journey into the heart of the battle against the so-called Islamic State (ISIL) in northern Iraq.
Our correspondent was with Iraqi government troops as they fought to retake villages on the route to Mosul, which they hope to recapture from ISIL by the end of the year. He also gained exclusive access to Kurdish Peshmerga fighters, providing key resistance to ISIL in the north.
The perilous journey took our correspondent from the frontlines, where the sounds of war never fall silent, to ghost towns strewn with fallen fighters.
Watch Mohammed Shaikhibrahim's exclusive report in the player above.
On the frontline in northern Iraq: an interactive map