Exclusive: under fire during an advance on ISIL
Comments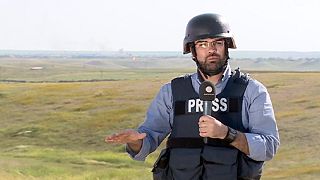 Heavy fighting as Iraqi troops try to recapture Mosul from

ISIL

Suicide bombings and booby traps slow progress
Euronews reports from front line
Heavy fighting was reported on Monday near the Iraqi city of Mosul as an offensive to recapture the city from ISIL occupation continued.
Iraqi government troops, pro government militias along with Kurdish Peshmerga fighters who are offering logistical support, are all involved in the campaign which was launched last year. Coalition planes are also being used to bomb ISIL targets.
Iraq army closing in on 'IS'-held Mosul after surrounding strategic village https://t.co/fguzC4DEmHpic.twitter.com/st1lpQVc1Y

— dwnews (@dwnews) April 4, 2016
US-led coalition bombed Turkey's former #Mosul consulate with Ankara's consent https://t.co/IX7tg9007ypic.twitter.com/lXUX8aFsIQ

— Jewhadi™ (@JewhadiTM) April 4, 2016
The problem is that ISIL suicide bombings, booby traps and constant shelling are slowing progress. The villages around the city are proving difficult to overcome where ISIL fighters have dug themselves in.
Euronews reporter Mohammed Shaikhibrahim was close to the village of Al Nasr, where Iraqi army officials claimed six suicide bombers had tried to attack government troops but were destroyed.
Throughout the day mortar fire and shelling continued.
A Peshmerga officer explained to our reporter that fighting ISIL could be unpredictable:
"When you arrived here today to cover the military operation we brought you to this safe point … at least we thought it was safe as we werent under fire at that moment. But as you saw by yourself, ISIL can change its targets suddenly , they targeted the place where you were with your team, but we are glad you are safe and we are all safe".
Reporter Mohammed Shaikhibrahim added from the front line:
"ISIL has planted mines and booby traps and has dug tunnels which connect the villages and even individual homes. This type of guerilla warfare is proving to be a major challenge to the Iraqi army and the battle for Mosul is proving to be extremely tough."
"All of the people [of Mosul] want to leave, but for many there is no way" https://t.co/wxpL3ldfFEpic.twitter.com/ZZjSrDJCQh

— Al Jazeera English (@AJEnglish) April 4, 2016