Austria's far right wins by a 'landslide' in first round of presidential vote
Comments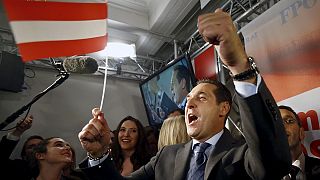 Anti-immigrant candidate wins presidential first round
Shock result for Austria's political establishment
Austria's far right Freedom Party has won the first round of a presidential election, with candidates for the two main parties failing to make next month's run-off.
Norbert Hofer, who ran on an anti-immigrant and anti-Europe platform, won over 36 % of the vote in the contest to become Austria's head of state.
Political earthquake in Austria presidential elections. Neither ÖVP nor SPÖ candidates make it to 2nd round. pic.twitter.com/786fsZfvnW

— Carl Bildt (@carlbildt) April 24, 2016
"As president, you have to be president for all Austrians, but that does not mean I will abandon my values. This is clear. I have my opinions which I will continue," said Hofer after the results came in.
Hofer will face the former leader of the Green Party Alexandeer van der Bellen who is running as an independent. He won 20.4 % of the vote.
While the position of president is largely ceremonial, the fact that neither of the main ruling parties is battling for the post marks a major shift in Austria politics.
Both parties have governed the country for decades, either alone or in a coalition.
Austrian Chancellor Werner Faymann expressed his disappointment.
"I'm really sad about the result," he said. "It is a clear warning for the government. We need to work together more strongly and to receive better results."
Rudolf Hundstorfer from the Social Democrats and the centre-right People's Party Andreas Kohl are each thought to have taken about 11 % of the vote.
Both the candidates who made it through to the run-off have criticised the government over its handling of the migrant crisis.
Van der Bellen said the government had been too harsh in its treatment of asylum applicants, while Hofer said it had been too soft.
Should Hofer get the top job, he could push to bring forward a parliamentary election due to take place in 2018 as support for his party has been growing.