Austria: Far-right electoral landslide puts Chancellor under pressure
Comments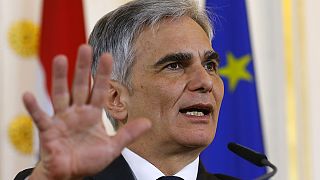 Austrian Chancellor Werner Faymann is facing the consequences of a far-right landslide in this weekend's presidential polls – with calls from critics for him to quit.
Sunday's poll was a disaster for his ruling coalition.
Members of his centre-left Social Democrats and the conservative People's Party have filled the presidency since it was first put to a popular vote in 1951.
The two parties have ruled the nation of 8.7 million in tandem for most of the post-war era.
Yet in Sunday's election, candidates from the ruling coalition parties did not even qualify for the run-off vote.
Instead, the second round on May 22 will see this intriguing duel.
With around 20 percent of the vote, the runner-up was Green Party veteran Alexander van der Bellen, standing as an independent. In a campaign dominated by the migrant crisis, he has criticised the government for being too harsh in its treatment of those applying for asylum.
He will battle it out with the overwhelming winner of Sunday's ballot – Norbert Hofer, who ran on an anti-immigrant, anti-Europe platform. Winning more than 36 percent, he can claim the far-right Freedom Party's best ever result in a national election.
Austrian far-right party sweeps first round of presidential election https://t.co/Q8MFqSz9skpic.twitter.com/afWblpNoRq

— dwnews (@dwnews) 25 avril 2016
The election outcome was "a resounding slap in the face" for the government coalition, said Wolfgang Bachmayer, who founded the OGM market research institute.
His comments were echoed by political analyst Peter Filzmaier. "Only those who are satisfied vote for a government party or its candidate," he said. "This time, the annoyed voted for Norbert Hofer."
While the presidency is largely only a ceremonial role, the fact that neither of the main ruling parties will be battling for the post in May marks a major change in Austrian politics – as well as the rising role of the far right in Europe.
Far-right parties across the continent have been expressing their delight on Twitter.
"Exceptional' said Marine Le Pen, of France's Front National.
"Je félicite le FPÖ de ce résultat exceptionnel en Autriche." #Les4Vérités

— Marine Le Pen (@MLP_officiel) 25. April 2016
It was a 'tremendous hope!' for her niece Marion, an MP for the party.
#Autriche : Le #FPÖ de Norbert Hofer au second tour de l'élection présidentielle ce dimanche, avec 36% des voix. Formidable espoir !

— Marion Le Pen (@Marion_M_Le_Pen) 24 avril 2016
In the Netherlands, populist firebrand Geert Wilders rejoiced at a 'fantastic' Austrian result.
Fantastic! FPÖ-candidate Norbert Höfer in the lead at the first round of Austria's presidential election! https://t.co/IQspETN9gN

— Geert Wilders (@geertwilderspvv) 24 avril 2016
It was a 'triumph' for Matteo Salvini, of Italy's right-wing Northern League.
Trionfo #FPÖ! https://t.co/pSecPZ2c8T

— Matteo Salvini (@matteosalvinimi) 24 avril 2016
And Frauke Petry, of Germany's anti-immigrant AFD, wondered if this is just a foretaste of what she
calls 'positive change' in Europe.
Ist #Österreich nur ein Vorgeschmack für einen positiven Wandel in Europa?Die Chancen für eine EU-Reform stehen gut. pic.twitter.com/gSmC2M5Tnd

— Frauke Petry (@FraukePetry) 25. April 2016