Obama warns UK it will be at 'back of the queue" for US trade if it votes to leave EU
Comments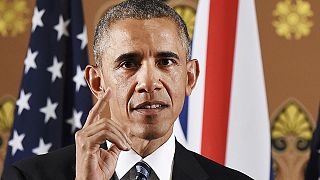 US president Barack Obama has warned Britain that if it votes to leave the EU, the United States would have very little interest in doing trade with it.
Obama was speaking at the start of a three day visit to the UK.
He told reporters: "Maybe some point down the line there might be a UK-US trade agreement but that is not going to happen any time soon because our focus is in negotiating with a big bloc – the European Union, to get a trade agreement done. And the UK is going to be in the back of the queue."
British prime minister David Cameron encouraged voters to listen to the US viewpoint.
"This is our choice. Nobody else's. The sovereign choice of the British people" said Cameron, "but as we make that choice it surely makes sense to listen to what our friends think, to listen to their opinion, to listen to their views and that's what Barack has been talking about today."
On Friday evening, the Obamas were welcomed at Kensington House by the Duke and Duchess of Cambridge and Prince Harry.
Amongst the topics on the table for the next two days, are understood to be: the conflicts in Syria, Iraq, Libya, Afghanistan, Ukraine and sanctions against Russia.