Obama says EU membership makes Britain great
Comments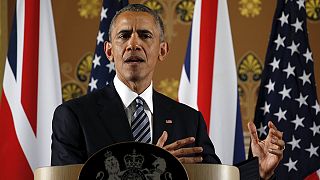 The US president said the the UK's membership of the European Union magnified its influence in the world.
Barack Obama is supporting those who want Britain to remain in the block ahead of a referendum in June.
Obama was speaking on the same day he wrote an opinion article in Britain's Telegraph newspaper appealing to voters to remain in the EU.
"The United States wants a strong United Kingdom as a partner and UK is at its best when it's helping to lead a strong Europe," said Obama. "It leverages UK power to be part of the European Union. As I wrote in the op-ed here today, I don't believe the EU moderates British influence in the world, it magnifies it."
"I'm very proud to have the opportunity to be prime minister and to stand outside the White House listening to this man, my friend Barack, say that the special relationship between our countries has never been stronger," said British Prime Minister David Cameron. "But I've never felt constrained in any way in strengthening this relationship by the fact that that we'are in the European Union."
Before their news conference,Cameron met with Obama in the foreign office in London. The two leaders discussed several topics, such as Ebola, the Iran nuclear issue and climate climate change.
Before the talks in Downing Street, Obama and his wife Michelle congratulated Queen Elizabeth who celebrated her ninetieth birthday on Thursday.