Mexico: death toll in Pemex factory blast rises to 24
Comments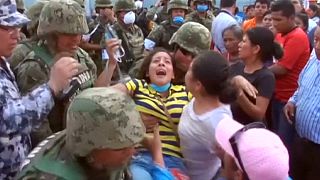 The death toll in the Pemex plant blast has climbed to 24 and could continue to rise, officials fear.
Families and loved ones of employees have been desperately waiting outside the Mexican petrochemical factory since Thursday's explosion (April 21), which is said to have been caused by a leak.
At least 18 people remain unaccounted for.
Of 136 people known to be injured, 19 have been hospitalised and 13 of those are in a serious condition, according to the plant's CEO.
Jose Antonio Gonzalez Anaya told the media the reason for the leak had not yet been determined, but "everything points to an accident."
Death toll from @Pemex explosion in #Mexico rises to 24https://t.co/PUqBE8ED2qpic.twitter.com/GuzMBHMaWi

— Sputnik (@SputnikInt) April 22, 2016
It is the latest in a series of incidents at Pemex. In February, a worker was killed in a fire at the same factory in Coatzacoalcos, while more than 60 people have died in two separate incidents on company premises in the past four years.
The latest in a series of fatal incidents to batter the Mexico-owned energy company Pemex https://t.co/Bk3KgmwQD6pic.twitter.com/FPepvQp8jx

— VICE News (@vicenews) April 22, 2016