Possible prisoner swap could bring jailed Ukrainian pilot home
Comments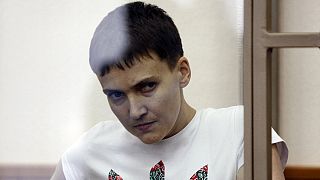 A proposed prisoner-swap deal with Russia could lead to the release of jailed Ukrainian pilot Nadiya Savchenko – that's according to Ukraine's president.
Savchenko has been sentenced to 22 years in a Moscow prison for her alleged role in the deaths of two Russian journalists. Kyiv says she is a prisoner of war and should be freed.
Ukranian President Petro Poroshenko said:
"A recent decision by a Ukrainian court to condemn two Russian servicemen opens some opportunities for operating an exchange mechanism. However, I would ask everyone to avoid any speculation in this regard, including the time of Savchenko's return or any other further steps."
Putin 'agreed formula' for prison swap https://t.co/gGHr9BjEAx

— Syd Aly (@sydaly) April 19, 2016
While Poroshekno certainly appeared confident that a phone call to Russian President Vladimir Putin had put the deal on the table, Russian Foreign Minister Sergey Lavrov, speaking later, was less so.
"At the moment all our Western partners, overseas and in Europe, talk only about Nadezhda Savchenko when the topic of human rights in the Russian Federation is discussed. No one remembers now that Russian journalists were killed in Ukraine."
In a sign that a swap could be imminent, a lawyer for the two Russian servicemen convicted by Ukraine for waging terrorism, said neither would be lodging an appeal against the verdict.
Background
Savchenko enlisted in a volunteer Ukrainian battalion in summer 2014 to fight the separatist rebels in the Luhansk region. She was captured by the rebels and resurfaced in Russian custody on the other side of the border. Moscow said Savchenko had escaped from the separatists and was caught in Russia, while the Ukrainian said she had been abducted and smuggled into Russia.
A Kyiv court sentenced Alexander Alexandrov and Yevgeny Yerofeyev, who were captured last year, to 14 years in prison on Monday after finding them guilty of terrorism and waging war in eastern Ukraine. The two admitted being Russian officers but the Russian defence ministry claimed they had resigned from active duty.