Trump and Clinton win New York primaries - media projections
Comments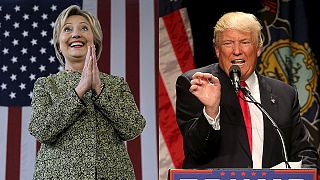 Media projections in the New York presidential nomination primaries have Republican front runner Donald Trump scoring a major win.
Hillary Clinton is also on course for success after an early tight race with her rival for the Democratic nomination, Bernie Sanders,
Trump is looking for a big win – over 50% of the vote so he can take most of the 95 delegates on offer. That would take him ever closer to the 1237 figure he needs to avoid a contested Republican nomination convention which he is not hopeful of winning.
Hillary Clinton – a former New York Senator – needs a convincing win to reestablish her campaign's momentum after losing seven out of the last eight contests to her rival Sanders.
Sanders has been viewing this New York contest as a political last stand, knowing if he doesn't win he will be even further behind Clinton with her pledged delegates.
The other two Republican candidates, Ted Cruz and John Kasich are not expecting to do well in New York and are even looking to next Tuesday's Pennsylvania vote.