Hungary's teachers strike and give Orban 'fail' grade
Comments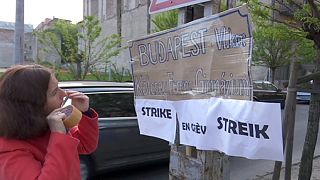 Hungary's teachers are staging a one-day strike in process at the government's centralising of the system. Many complain the centralising refoms have resulted in students overloaded with work, and the teachers given too many classes and a huge administrative workload.
"If the teachers' strike committee can achieve anything with this action then we already made 1 or 2 steps forward on that otherwise very long road to achieve a complete change in the public education system," said teacher Katalin Törley.
This is the first major strike against Viktor Orban's government, and the teachers called for support from other unions by stopping work for five minutes at noon.
"The teachers announced a strike but they have to stay in the school building so we decided to come out and with a little more visible actions we can show our solidarity and that we agree with their demands," said student Viktor Gyetvai.
"Whole day long strike was only in the education system, but trade unions from other areas and also civils showed their solidarity with smaller actions or few minutes long strikes," says euronews' Andrea Hajagos.
The strikers were serenaded by taxi drivers on their horns, just one of many other trades and professions who showed their support with public protests.