Italian coastguards make big rescue at sea, but many feared dead in sinking
Comments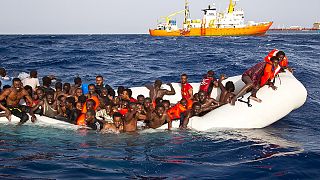 Italian coastguards intervened overnight in the Mediterranean to save the lives of 108 migrants trapped on a semi-submerged rubber boat who were discovered by a private humanitarian rescue group, SOS Mediterranee.
Their ship, the Aquarius, found six bodies on the boat, but there are unconfirmed reports of a big tragedy at sea not far away.
"We really need to reflect, especially today, facing yet another tragedy in the Mediterranean in which, it seems, several hundred people have died, on the day we are marking the first anniversary of the shipwreck in which 800 people lost their lives," said Italian President Sergio Mattarella.
Mattarella was referring to the heavy loss of life exactly a year ago when 800 refugees
died in the biggest single shipwreck of the migrant crisis so far, when their overloaded fishing boat collided with the merchant ship that had come to rescue them.
If the as-yet-unconfirmed reports of 400 people drowning off the coast of Egypt prove to be accurate, it would be the second-worst single disaster recorded so far.