Germany registers 112% jump in asylum applications
Comments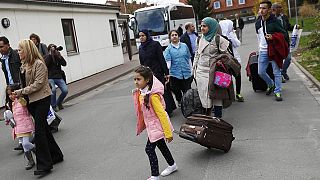 The news
The German authorities say a significant rise in the number of asylum applications it is processing is due to a backlog in paperwork.
The country's Interior Ministry says it dealt with 181,405 applications in the first three months of this year – in increase of 112% on the same period in 2015.
Officials say most of the one million-plus migrants who arrived last year were first registered at shelters on arrival.
There is then a delay of weeks or months before an asylum application is filed.
De Maizière: Zahl der Asylsuchenden in Deutschland sinkt drastisch https://t.co/uuTUiBLGyOpic.twitter.com/C9yqDiMXum

— Der

SPIEGEL

(@DerSPIEGEL) April 8, 2016
Interior Minister Thomas de Maizière says the number of requests is going up, because many of those who have been here for a long time are only now applying for asylum.
"The actual number arriving is going down," he told reporters.
Month-on-month down
Requests for asylum in Germany drop 66% in March — minister: Interior Minister Thomas de Maiziere says about 2… https://t.co/kMDQA6RuGm

— Luis Carballo (@LCEuronews) April 8, 2016
The German authorities registered an estimated 60,000 applications in March alone.
That represents an 87% rise compared with March 2015 and an 11.5% drop compared to February 2016.
Arrivals drop to "a trickle"
The number of arrivals is said to have significantly reduced in March.
The Balkan route through south-eastern Europe has been shut.
An estimated 10,000 people were entering the country each day at the peak of the crisis last summer.
What they are saying
"The figure for the number of asylum requests is going up. The figure for the number of people coming to Germany is going down." – Thomas de Maiziere, German Interior Minister.