To impeach or not to impeach? Zero hour for Dilma Rousseff
Comments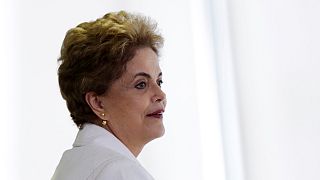 The day has arrived for Dilma Rousseff to learn her fate.
This evening (April 17), Brazil's lower house of Congress – the Chamber of Deputies – is to decide whether or not to recommend impeaching the president.
Rousseff will likely have to step down if two thirds of the federal deputies vote against her in the ballot. A trial in the Senate would follow in the coming weeks.
It follows a year and a half of deepening political crisis, which has seen her approval ratings plummet. Her leftist Workers' Party – the PT – is embroiled in a corruption scandal, the nation's economy is suffering its worst recession in decades and the president herself is accused of doctoring Brazil's fiscal accounts to hide a gaping budget deficit ahead of her 2014 reelection.
Her chances of gaining the votes needed to avoid impeachment are estimated at between five and 15 percent, while pundits put the odds of her surviving in her post until the end of the year at around one in nine.