Brazil: Lula at the centre of a political storm
Comments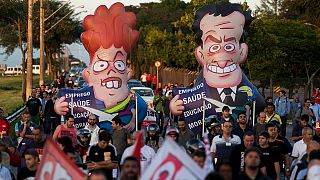 Lula is the man who has been shaping Brazil since 2003 and who established the Workers Party at the top of the country's politics.
The charismatic former president is now at the heart of a crisis which has divided his country.
Six years after leaving office prosecutors filed charges against Lula last week accusing him of money laundering and fraud, which he has denied. It is a sweeping graft probe centred on state-run oil company Petrobas and is alleged the Workers' Party used kick backs from the scheme to fund their campaigns.
The icon of Brazil's left is widely referred to as the mentor of President Dilma Rousseff. Despite being named in two judicial investigations and after he was detained briefly before being released the president travelled to his home.
Then just a few days later the president brought him back into government to serve as her chief of staff a position of power. As such it gives him immunity from the threat of custody by the federal judge Sergio Moro who is leading the investigation into the Petrobas scandal. In Brazil cabinet ministers can only be investigated by the Supreme court. He was inaugurated in a heated atmosphere.
The day before his swearing in Judge Sergio Moro released a telephone conversation between Rousseff and Lula which suggested she brought him back into her cabinet so he could avoid arrest.
That added oil to the fire of discontent which has spread throughout the country and has given impetus to those who want President Rousseff out.
The same night lawmakers initiated the procedure of impeachment against the president.
Since December the opposition has been trying to force the impeachment with accusations against the president that she broke budget rules to boost spending as she campaigned for re-election in 2014. A move it is alleged to help mask the growing economic crisis in the country. Those accusations are unrelated to the investigations surrounding oil-giant Petrobas.