Brazil: impeachment step-by-step
Comments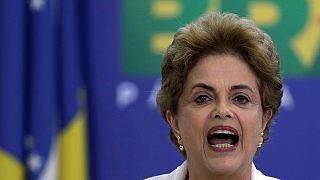 The President of Brazil, Dilma Rousseff is on a political knife edge. There is the very real threat she could be voted out of office. But she is in combative mood and will not give up the fight for her political future. On Tuesday without mentioning him by name she pointed the finger at her deputy.
"Even before the vote on an inconsistent request of impeachment, an audio message was distributed where one of the leaders of the conspiracy took on the position as President of the Republic," she told her supporters.
Michel Temer who has been vice-president since Rousseff's first term. He is one of the leaders of the PMDP the president's former main coalition ally. His party voted to leave the coalition weeks ago.
He has made no secret he is ready to take on the presidency, saying "if destiny takes me to that position…I will be ready." He denied plotting against Rousseff which she has called, "a coup."
The week started badly for the president. A committee of 65 delegates voted by 38 to 27 to recommend her impeachment. The margin was wider than predicted.
Those calling for her impeachment contend she broke budget laws to support her re-election in 2014 a charge which she claims was trumped up to remove her from office while her supporters say she acted within the constitution.
As the process gets underway it will be the 513 members in the Chamber of Deputies who will vote first.
If there are 171 votes or abstentions then the process will stop there and Rousseff will not be impeached.
But if two thirds of vote for her removal then it is on to the next stage and the Senate.
And the Senate will vote whether to put her on trial. A majority is required. If that happens Dilma Rousseff will be suspended and Michel Temer will become president.
The Senate will then have 180 days to conduct its trial. If two-thirds of the members vote for impeachment then Rousseff will be stripped of her political rights and cannot run for office for eight years. Temer will be confirmed as president for the rest of her term.
But while Rousseff fights for her political survival the country is struggling with a deep recession. There is the ongoing corruption scandal, the Zika epidemic while the Rio Olympics are just around the corner. Even the key role which Brazil played in the fight against climate change could be undermined.