Rousseff cancels televised speech ahead of impeachment vote
Comments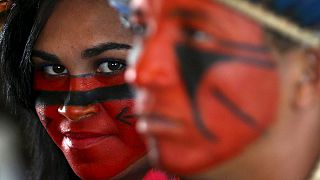 Brazil's president cancelled an televised speech on Friday night for fears it would spark demonstrations.
Dilma Rousseff was expected to defend her government in the face of her imminent impeachment over charges of breaking budget laws.
The country's former leader Lula da Silva says an impeachment vote planned for Sunday will only further destabilise the country.
"Once the impeachment is defeated, on Monday [April 18] regardless of the charge, I will be committed, along with President Dilma [Rousseff], for Brazil to have a new way of governing. In this next stage, I will use my experience as an ex-president to help rebuild dialogue and unite this country," said da Silva.
Pro-impeachment lawmakers chanted "Dilma out" in the lower house of Brazil's congress on Friday.
A three-day debate is underway on whether to impeach the president. That is set to culminate with a vote that Rousseff is widely expected to lose.