Pope Francis returns to Rome, leaving behind protests in Lesbos
Comments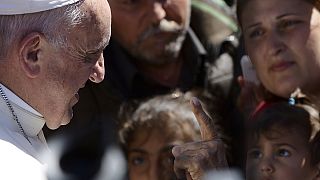 Pope Francis has touched down in Rome, with a dozen extra passengers.
The Pontiff returned to the Italian capital with three Syrian families. The group of 12, which included six children, travelled back with the religious leader after his visit to the Moria migrant and refugee camp on the Greek island of Lesbos.
Emotional scenes were witnessed on a number of levels earlier in the day. The Holy See's visit to the Moria migrant camp was clearly joyous for some, but less so for others.
Some 200 protesters rallied with placards criticising the Pope and slogans such as "EU, shame on you!" which sent a clear message to the European Union.
Our correspondent, Giannisis Stamatis was in Lesbos.
"The visit of the pope and other religious leaders to Lesbos aims to demonstrate solidarity with the refugees and migrants regardless of faith or country of origin. Despite its strong symbolism, however, it is unlikely that it will change the minds of those European political leaders who insist on closed border policies," he said.
One activist gave his reasons for protesting.
''Every time that some famous or official visitor comes to Lesbos there is a lot of theatre. They are pointing the walls in Moria, they sure giving new clothes to the people, they are putting flowers in the center but this is not the reality."