Obstacles remain ahead of resumption of Syria peace talks
Comments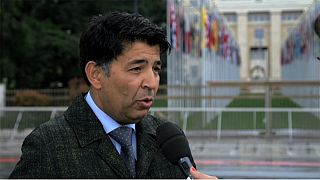 Delegates at the Geneva peace talks on Syria will be using the weekend to regroup after last week's negotiations failed to achieve any real progress.
With intensified fighting near Aleppo threatening the strength of an already weak truce and neither side any closer to an agreement on political transition in Syria, political analyst Hasni Abidi gave euronews his opinion on the value of the talks.
"There is a very important link between what's happening on the ground and the Geneva negotiations. The military escalation by the regime threatens to torpedo the diplomatic negotiations taking place here in Geneva, because it's very difficult for the opposition to continue with discussions while significant military operations are ongoing and while there is a mass exodus taking place around Aleppo. And of course the opposition is well aware of this obstacle."
United Nations mediator Staffan de Mistura had pledged to focus on political transition.
However, Bashar Ja'afari – the Syrian government's chief negotiator – has been seeking to skirt attention away from the topic by handing the UN its amendments to a 12-point plan the body issued in March.
The opposition promptly accused Ja'afari's side of not being serious about seeking a solution to the five-year civil war.