Gonzalez and Cook secure first Triathlon World Cup wins
Comments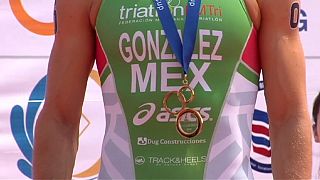 Mexico's Rodrigo Gonzalez and American Summer Cook celebrated their maiden wins on the ITU Triathlon World Cup circuit on Saturday in Chengdu, China.
Gonzalez was down the field after the swimming section but pulled himself to the front of the pack in the bike ride and then went clear.
He opened up a sizeable gap on the run to eventually cross the line with a 27-second advantage over Rostyslav Pevtsov of Azerbaijan who took the silver.
Marten Van Riel from Belgium was a further 4 seconds back to claim bronze.
In the women's race Cook was in impressive form to take her first career win at the third World Cup stop of this season.
After the swim Cook was part of a group of eight to go clear on the bike although the field came together at the transition for the final run.
The American controlled her race perfectly and ran clear in the final lap to cross over 37 seconds clear of Claire Michel of Belgium while Austrian Lisa Perterer rounded out the podium.
The next world cup event takes place in Huatulco, Mexico early next month.