EU and Iran 'turn a new page' in diplomatic relations
Comments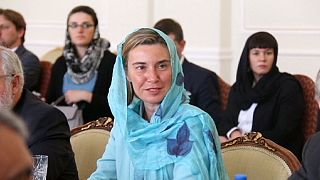 EU representative Federica Mogherini held several meetings in Iran to reopen economic relations between Europe and Tehran.
The president of Iran's central bank said the country has not benefited economically from a nuclear deal struck last year between Tehran and world powers.
He said that European banks are concerned about breaking US regulations and receiving huge fines.
He also pointed out that Iran needs to access the US dollar for foreign payments.
"We have told the US and will also put pressure and the EU will do the same too," said Iran's Foreign Minister Javad Zarif. "The US should also make it possible for non-American banks to work with Iran."
"We are doing all we can to reassure our financial and banking system on the fact that all the information on the new situation is provided," said Federica Mogherini. "And obviously we are in a situation in Europe where we cannot, for sure, force anyone to do anything."
Mogherini said that Europe was determined to retake its position as Iran's main trading partner.
Euronews correspondent Javad Montazeri is in Tehran.
"Iran and Europe are about to start a new chapter of economic relations after the nuclear deal, however, sanctions initiated by the US government on Iranian banks, prohibiting the use of dollar in international trades is a common concern for Iran and Europe's commercial and economic development," reported Montazeri.