Belgian PM slams Brussels airport disruption as "irresponsible"
Comments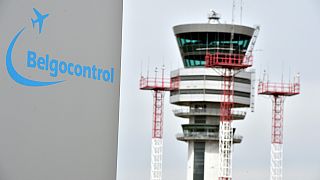 Brussels airport is only just starting to resume normal services after the deadly terrorist attacks of three weeks ago, but now it has been hit by strike action.
Stranded passengers have voiced anger over protest action by air traffic controllers, which led to 50 percent of flights being cancelled.
Currently, no air traffic control possible at #brusselsairport. Belgocontrol looks for operational solutions. Check with your airline.

— Brussels Airport (@BrusselsAirport) April 12, 2016
Passenger Viviane De Pauw told reporters: "It's very shameful. That's all I can say about it."
Her husband said: "Help should be given to Zaventem airport to recover, but they're doing just the opposite, adding insult to injury."
Another woman passenger said: "It's a lack of respect, towards the victims, towards their colleagues, towards the people who died here. It's very disrespectful."
.IATA</a> describes <a href="https://twitter.com/hashtag/Brussels?src=hash">#Brussels</a> Airport controller strike as 'kick in the teeth' <a href="https://t.co/FkAGbilv7R">https://t.co/FkAGbilv7R</a></p>&mdash; Travel Daily UK (TDUKnews) April 13, 2016
Some traffic controllers rang in sick in protest over pension reforms, an action condemned by the government.
The Belgian Prime Minister, Charles Michel, said: "I don't accept that a minority makes such an irresponsible choice.
"I don't want to be blackmailed. I want to add that doctors who are writing false sick notices will be sanctioned. This is a clear message to doctors."
A union representing just over a quarter of the staff is unhappy with how negotiations over raising the pension age are being dealt with.
Strong disapproval of IATA</a> of &#39;strike&#39; <a href="https://twitter.com/Belgocontrol_NL">Belgocontrol_NL :'kick in the teeth for BrusselsAirport</a>&#39; <a href="https://twitter.com/hashtag/aviation?src=hash">#aviation</a> <a href="https://t.co/pSBE2m72xP">pic.twitter.com/pSBE2m72xP</a></p>&mdash; Steven Decraene (stevencraneTV) April 12, 2016
Beleaguered Brussels Airport, staggered by terror attack, now deals with strike. (Photo: AP) https://t.co/SGawAuc0w0pic.twitter.com/Gq0EC0js1M

— John Bacon (@jmbacon) April 13, 2016
When it rains…air traffic controllers on strike again just as BrusselsAirport</a> attempts to recover from bombing <a href="https://t.co/C05Vmt91ol">https://t.co/C05Vmt91ol</a></p>&mdash; Peter Spiegel (SpiegelPeter) April 13, 2016
Flights cancelled to/from Brussels Airport as air traffic controller strike disrupts travel: https://t.co/BlL3EmHUOZpic.twitter.com/rewcnCpfkj

— Independent.ie (@Independent_ie) April 13, 2016