Keiko Fujimori 'wins Peru's presidential first round'
Comments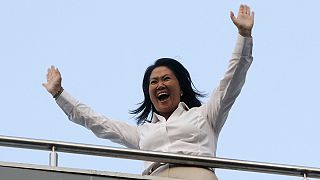 Centre-right candidate Keiko Fujimori has won the first round of Peru's presidential election. Exit polls have given her about 40 percent of the vote.
Peru election: Keiko Fujimori wins first round, say exit polls https://t.co/QIL0l7Gqenpic.twitter.com/OtWmw5y5EB

— Politics News (@PoliticsNewz) April 10, 2016
However its not clear which of two challengers she will face in a June run-off. Centrist and former World Bank economist Pedro Pablo Kuczynski and leftist Veronika Mendoza are neck and neck with around 20 percent of the vote each although one poll gives Kuczynski a slight lead.
The run-up to the election hasn't been without incident.
Suspected leftist rebels killed three people and injured six more in an attack on Saturday. A vehicle carrying election materials in a remote coca-growing region was ambushed.
Polls show Kuczynski has a better chance than Mendoza of beating Fujimori in a run-off .
Keiko Fujimori has distanced herself from her father, jailed ex-president Alberto Fujimori. He is serving 25 years in prison for ordering death squads to massacre civilians during his attempts to end an insurgency by the Shining Path rebel group. Around 69,000 people died in the decade-long conflict.