Ex-top Spanish banker Mario Conde detained in money-laundering probe
Comments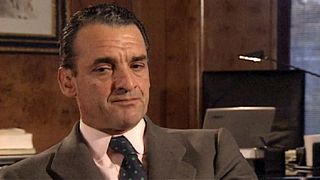 He was once a high-flying Spanish banker.
But disgraced Mario Conde, formerly in prison for embezzlement, has now been rearrested on suspicion of secretly channelling misappropriated funds from the scandal that caused his downfall back into Spain from Switzerland.
It is more than 20 years since the bank he chaired, Banesto, collapsed with billions eventually found to be missing.
In total, since then, he has spent nearly 15 years in detention.
Disgraced ex-bank chief Mario Conde arrested for laundering ill-gotten gains from abroad https://t.co/b4siL3iDjDpic.twitter.com/IEYcru30lp

— El País in English (@elpaisinenglish) 11 avril 2016
Now Conde is back in custody on suspicion of money laundering, after raids at his home. His two children have also reportedly been taken in for questioning.
The ex-banker, who claimed he was the victim of a conspiracy, was a symbol of the 'get-rich-quick' culture in Spain in the late 1980s and early 1990s.