Dilemma for Dutch PM Rutte after voters reject EU-Ukraine partnership deal
Comments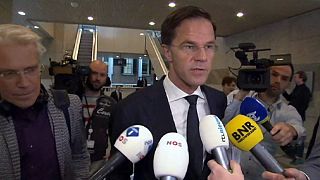 The ball is in his court after the Netherlands rejected an EU partnership deal with Ukraine.
But Dutch Prime Minister Mark Rutte told reporters little on Thursday about how he will handle the crisis, other than to say that in the days, weeks or even months ahead he will be seeking a solution.
For eurosceptics whose grassroots petition forced Wednesday's referendum, the 'No' vote was a source of joy.
Far-right politician Geert Wilders hailed it as: 'The beginning of the end of the EU'.
It looks like the Dutch people said NO to the European elite and NO to the treaty with the Ukraine. The beginning of the end of the EU.

— Geert Wilders (@geertwilderspvv) 6 avril 2016
But less than three months before a British referendum on whether to leave the bloc altogether, it has alarm bells ringing in Brussels, with European Commission President Jean-Claude Juncker said to be 'triste' – French for 'sad'.
"You asked me how the President feels, I think I can tell you that the President est triste," European Commission Chief Spokesperson Margaritis Schinas told a regular news briefing.
The turnout threshold of 30 percent was only just met. The result is non-binding.
But over 60 percent of voters rejected the Ukraine deal in the Netherlands – current holder of the EU's rotating presidency.
Dutch voters overwhelmingly reject Ukraine-EU treaty https://t.co/RCUuIYTPMS via @IrishTimesWorldpic.twitter.com/yE0usvV5Qb

— The Irish Times (@IrishTimes) 7 avril 2016