Dutch ballot result sharp rebuke for the EU
Comments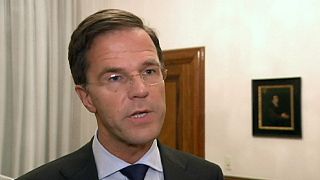 Voters in the Netherlands said, "No" to Ukraine but it was also a sharp rebuke to their government and the European Union. Some of those who went to the polls said they were voicing their oppostion to a range of matters from the migrant crisis to economic policy.
The turn out was just 32 percent barely enough to for the result to be considered valid. The deal was rejected by 61.1 percent of votes compared to 38.1 percent in favour. But the ballot cannot be ignored.
"My political view is that if the turnout is more than thirty percent, with such a victory for the, "No" camp, that ratification cannot go ahead without discussion," told reporters.
Any proposed changes to the treaty will have to pass both houses of the Dutch parliament including the Senate where Rutte's shaky coalition lacks a majority.
If a compromise can be reached then it will have to be palatable to other European countries as well as Ukraine and the European Union Commission.
If the Netherlands don't sign the treaty then in theory it could become obsolete.
The accord which is an EU partnership to remove trade barriers with Ukraine and was signed in March 2014 has already been ratified by all the other 27 member states. It received the green light from the European Parliament before all the ratifications and is likely to continue to apply with discussion ongoing.
In the short term nothing will change. The Netherlands could re-negotiate certain elements of the landmark deal. It was initially rejected in Ukraine by the then-President Viktor Yanukovych before protests which ultimately led to his downfall. It is vital for Kyiv and its hopes of closer links with the EU. The Dutch vote is for the moment a cold shower.
Or is it "the beginning of the end" for Rutte's government and the EU in its current form. That was the reaction to the vote by the anti-EU politician and leader of the Party for Freedom, Geert Wilders.
It looks like the Dutch people said NO to the European elite and NO to the treaty with the Ukraine. The beginning of the end of the EU.

— Geert Wilders (@geertwilderspvv) April 6, 2016
His view may be in the extreme but his popularity has hit an all time high and there is no doubt the rejection of the deal will have rattled the nerves of European leaders.
The vote comes just three months before British voters will go to the polls in a referendum to decide whether to leave the EU altogether. A spokesman for the campaign group Leave.EU said the result in the Netherlands "demonstrates that people don't have to support the EU and its expansionist agenda to feel European."