Ukraine: Disappointment at Dutch rejection of EU partnership deal
Comments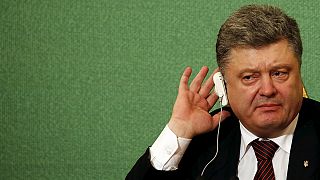 There was consternation in Kyiv on Thursday that closer ties with Europe have been dealt a blow by Dutch voters in a referendum which resoundingly rejected a broad political, trade and defence treaty between the EU and Ukraine.
I am very sad because politics has got in the way of our country's destiny
But for those in the know in Ukraine, dismay is mixed with hope that this is not the end of the story.
"This is one of the biggest disappointments, perhaps the biggest disappointment in recent years," said political analyst Yriy Panchenko.
But he added that the Netherlands and Ukraine will now seek a way of preserving the partnership deal while at the same time making it clear that the European Union is still listening to the views of ordinary people.
"I am very sad because politics has got in the way of our country's destiny. Perhaps my future, my family and my country will be at risk because of this," a young woman told euronews in the Ukrainian capital.
Timothy Ash: The implications of #Dutch vote to reject #Ukraine-#EU pacthttps://t.co/crqMW8Wdgfpic.twitter.com/OPsVNupakL

— Kyiv Post (@KyivPost) 7 avril 2016
But on a visit to Japan, Ukraine's President Petro Poroshenko seemed far from discouraged, downplaying the importance of the referendum.
"Under any circumstances we continue to implement the association agreement with the European Union including the deep and comprehensive free trade agreement and Ukraine will continue our movement to the European Union,"
he said.
For Poroshenko, the Dutch 'No' vote is, above all, aimed at the EU, with those behind the referendum not taking a shot at the Ukraine treaty but at the unity of Europe.
Many Ukrainian politicians feel their country deserves the treaty and are keen to show they have made progress in aligning their country with EU standards since the 2014 uprising that toppled pro-Russian president Viktor Yanukovich.