Brazil launches security exercises ahead of Rio Olympics
Comments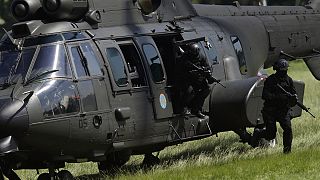 The venues may not be ready for the upcoming Olympics in Rio, but Brazil's
special forces have launched a series of security operations ahead of the games.
Why does Brazil use a white soldier's face on Olympic security poster? Much of 85,000 force will be black, brown. pic.twitter.com/Tuxc4DOhTj

— Stephen Wade (@StephenWadeAP) April 6, 2016
Authorities upped security drills following the Brussels murders.
Captain Guillermo Colombo, Commander of the Special Forces First Battalion, says security intelligence is being shared as the Olympics loom:
"Perfecting our work is constant for us as much as it is for the other agencies that combat terrorism. We are sharing knowledge with other countries that face this kind of problem."
The operation called Sugar Loaf involves a series of exercises within the operational environment of the Olympic Games.
The cable car ride over sugarloaf mountain! #Brazil#travelthursday#explore#discoverhttps://t.co/1oems1Ne9rpic.twitter.com/5NKM3vKbT0

— Agape Voyage (@AgapeVoyage) April 7, 2016
Brazil's Institute of Tourism estimates that 350,000 to 500,000 foreign tourists will descend on Rio for the Olympics in mid-August.