Anger in Egypt court as Mubarak retrial postponed again
Comments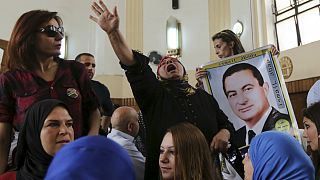 The retrial of Egypt's former President Hosni Mubarak on charges related to the killing of protesters has been postponed for the third time – because he was unable to appear in court, apparently due security concerns.
The case has been rescheduled to take place in November.
In court his supporters chanted "Hosni Mubarak is the most honourable Egyptian", deploring what they saw as a lack of justice.
"The trial is postponed until the hearing of 3 November 2016," said the judge, Ahmed Abdel-Awy.
"Why is justice always forgotten?" Mubarak's supporters chanted.
What many may find startling is the reason given: the Interior Ministry told the court that Mubarak could not be escorted from hospital to the court because of traffic and security concerns.
"Why did the judge postpone the trial until November? What is this injustice, what did Mubarak do? Who did he rob? If he wanted to, he could have robbed and then left Egypt," shouted Mubarak supporter Yassir Ragab.
Last November the retrial was last postponed because the court and the government could not agree on which court should handle the trial.
Mubarak was sentenced to life in prison in 2012 but an appeals court ordered a retrial. The former dictator has been in detention since April 2011, after being swept from power amid the "Arab Spring" protests.