Migrant deportations from Greece to Turkey begin under EU deal
Comments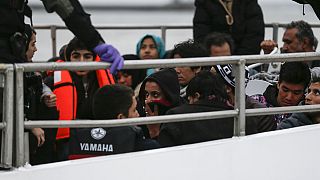 Greece began returning migrants to Turkey early on Monday morning as the EU's deal with Ankara to stem the influx of asylum seekers into Europe came into effect.
Amid tight security and apparent calm, the first boats from the island of Lesbos were boarded with
over 130 migrants, most said to be from Pakistan and Bangladesh.
Under the accord, all migrants arriving illegally in Greek after March 20 face deportation to Turkey if they fail to apply for asylum or if their claim is rejected.
A NATO ship watched over today's first returns.
For every Syrian sent back, another Syrian will be resettled to Europe, directly from Turkey.
Those returned to Turkey will arrive at the town of Dikili, despite warnings that it is ill-equipped to cope.
The UN refugee agency (UNHCR) says the deal lacks legal safeguards. Amnesty International has called it 'an historic blow to human rights'.
The first transfers back to Turkey came as migrants and refugees continued to arrive on Greek shores.
This family arrived to #Lesvos yesterday but the family shelters at #Moria are full so they wait outside. pic.twitter.com/r4KV7OPNPS

— MSF Sea (@MSF_Sea) 2 avril 2016