Turkey: Dikili residents express anger over EU migrant deal
Comments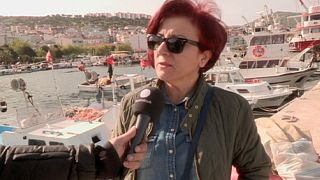 The European Commission says Ankara has met the legal requirements for the return of migrants from Greece.
A spokesperson made the statement as the Turkish coastal town of Dikili received the first group among more than 200 migrants on Monday (April 4); concretely bringing into effect a controversial deal between the country and the European Union.
The EU says the plan is to shut down a human smuggling route across the Aegean Sea. However rights groups and local residents are unhappy with the situation.
"I don't want refugees here. It's a tiny, beautiful coastal town," said one woman in Dikili.
"Where will they keep them? Where? What will happen next? All the people here are concerned. There was a festival yesterday. Women were selling stuff. But everybody was talking about this issue."
An admissions centre has been set up in the town to receive the arriving boats. Officials say the first group included Pakistanis, Afghans and a small number of Syrians.
"This is a small place. This is also a tourist area. It's not logical. Off course they need a place to stay. But not here. Maybe closer to the border. So that they can go back to their country," another man told euronews.
Turkey's EU Affairs Minister told local media Syrian migrants coming from Greece will be sent to southern Turkey. The immediate future for arrivals of other nationalities remains to be seen.