An uncertain future for thousands of migrants on Greece's Lesbos island
Comments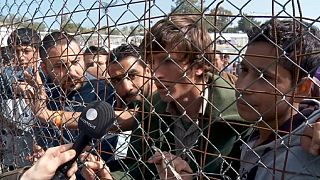 Migrants on the Greek island of Lesbos a few hours before many were due to be returned to Turkey. But they're not sure what the future holds because nobody is giving them any information.
Over the last month, journalists have been prevented from entering the Moria detention camp.
Now, even filming outside is forbidden.
"Turkey is dangerous for us," said one young man. "We don't want to go back. We want to stay in Europe, we don't want to go back. That's it."
"I can not go to Turkey, I can not go," Fatima al-Hariri told euronews. She and her three children travelled from the Syrian city of Daraa.
Inside Moria detention center #Lesbospic.twitter.com/t1LLiPsAaz

— Zeina Khodr (@ZeinakhodrAljaz) April 3, 2016
"It's very difficult in Turkey," she added. "There is no help. Nothing. Turkey takes money from Europe, from some countries, but gives nothing to Syrians. No help."
Reporters on Lesbos say they've seen little evidence of preparation work on the ground.
A spokesman for the UN refugee agency spoke to euronews.
"We need to see safeguards in place to make sure that these people have a credible assessment of their protection need, before any of these returns takes place," UNHCR spokesman Boris Chershikov told euronews. "We are very concerned and we urgently appeal to Greece and Turkey to put in place these safeguards, as we see deficiencies and gaps still in both countries."
Euronews reporter Apostolos Staikos is on Lesbos.
"For tens of thousands of refugees and migrants, Lesbos was seen as the 'island of hope' — their first step into a new life in Europe. But now many of them are set to return to Turkey, a country where they don't want to live," said Stakios.
Anxiety among refugees & migrants in Moria detention camp less than 24 hrs b4 deportations begin #Lesbospic.twitter.com/Ah8Fzcx4×0

— Zeina Khodr (@ZeinakhodrAljaz) April 3, 2016