Questions over whether Turkey and Greece are ready for controversial return of migrants
Comments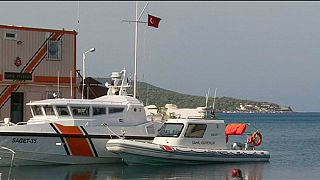 Just hours before the controversial EU-Turkey migrant deal is due to fully come into force, there are still questions about whether Greece and Turkey are prepared for what many warn will be a chaotic operation.
In Turkey, in the western town of Cesme, there are signs of some work underway to create processing centres for the thousands of migrants Brussels is hoping will be sent back from Greece.
Protests against migrants' presence staged in both Greece and Turkey, CostasKantouris</a> reports <a href="https://t.co/TmsaPlUPQ4">https://t.co/TmsaPlUPQ4</a></p>&mdash; The Associated Press (AP) April 2, 2016
Sadullah Gökçekaya, one of the Turkish workers building the processing centres, told reporters: "We started on Friday. They said migrants will come from Greece.
"We will start to finish it today (Sunday). We may continue to work until 11 pm to get it ready."
Greece is preparing to start deporting migrants back to Turkey despite mounting concerns https://t.co/c7JhMLti7Fpic.twitter.com/ZuW1I7Ve5T

— Sky News (@SkyNews) April 2, 2016
On the Greek island of Lesbos, where hundreds of thousands have flowed into Europe since last year, reporters say there has been little evidence of preparation work on the ground.
Violent clashes erupted in Greek refugee camps as as Greece pressed ahead to deport migrants to Turkey https://t.co/Jic3tBUe4x

— The New York Times (@nytimes) April 1, 2016
A UNHCR spokesman on Lesbos, Boris Cheshirkov, said: "We feel that there are still deficiencies and gaps in both countries that need to be addressed.
"We're not opposed to returns as long as people are not in need of international protection, they have not applied for asylum and human rights are adhered to."
There are currently around 51K refugees and migrants in Greece https://t.co/0uY6MzCy8C#Europepic.twitter.com/ySSLRI7c3c

— UN Refugee Agency (@Refugees) April 3, 2016
Migrants are still arriving in Greece and many of those stuck there are vowing they will not go to Turkey willingly.
Numerous human rights groups continue to criticise the plan, warning it is neither legal nor viable.
Europe is planning to press ahead with return of hundreds of migrants from Greece to Turkey https://t.co/gHy2e3iBHGpic.twitter.com/DRpW6czL9V

— The Telegraph (@Telegraph) April 1, 2016
766 refugees & migrants reached Greece on 29th March – a spike in arrivals https://t.co/Wg4saeO3NJpic.twitter.com/kkM0QuSFn8

— UN Refugee Agency (@Refugees) April 1, 2016
Greece readies to send first migrants back in EU-Turkey deal https://t.co/fU1jQsyxsmpic.twitter.com/H4b3YapEay

—

AFP

news agency (@AFP) April 2, 2016