Deadly collision between train and double-decker bus in Thailand
Comments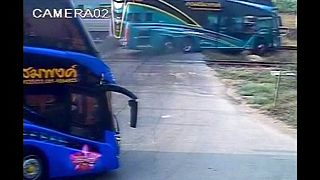 A train has collided with a double-decker bus carrying Thai tourists at an unguarded railway crossing in central Thailand.
Local media say three people were killed and more than two dozen injured.
Security video showed the bus moving slowly across the tracks and stopping momentarily before it collided with the train.
Another video from a different angle showed the bus being hit and dragged some distance in a cloud of dust.