Greek parliament to vote on EU-Turkey migrant accord
Comments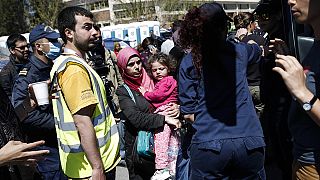 The Greek parliament is expected to vote on Friday on measures putting into practice the EU's accord with Turkey on the return of refugees and migrants, due to come into effect next week.
The authorities have begun bussing the first of an estimated 6,000 refugees from the port of Piraeus near Athens to other parts of the country.
Mainly from Syria, Iraq and Afghanistan, they are among tens of thousands stuck in Greece since Balkan countries closed their borders.
All migrants who crossed to Greece after March 20 are to be sent back. The policy, which has been denounced by the UN refugee agency and rights groups, is meant to end the uncontrolled influx of refugees and other migrants in which more than a million people crossed into Europe last year.
Both Greece and Turkey have been rushing through changes to their asylum rules in a race to implement the agreement.
Turkey's prime minister says the deal should help control numbers and prevent further loss of life.
"This approach will go into effect starting (next Monday) 4 April. For every refugee we take in, one refugee will be sent to Europe. This way, we will achieve a balance, cut off illegal routes, and stop human traffickers, who profit (in such a) cowardly (manner) from those illegal routes," Ahmet Davutoglu said.
EU border agency Frontex will coordinate the logistics after Greek authorities decide on individual cases. An EU official said it would have ferries, police officers and other escorts ready on Monday for the short trip, mostly likely from the Greek island of Lesbos to Dikili in Turkey.
#Frontex calls on EU states to offer more police officers to support Greece in returning migrants to Turkey https://t.co/yLH1g04VZw

— Frontex (@Frontex) March 23, 2016
The number of migrants and refugees arriving in Greece is said to have risen ahead of the agreement.
Italian officials have warned that the deal to restrict the number of migrants travelling via Turkey could increase the flows through Libya to Italy.
Thousands have been rescued from the Mediterranean by the Italian coastguard this week after attempting the dangerous crossing.
More than 1,300 were rescued from boats and rubber dinghies on Wednesday, the coastguard said. Another 1,500 were rescued on Tuesday in 11 separate operations.