Migrants arrive on Greek islands as EU-Turkey deal enters into force
Comments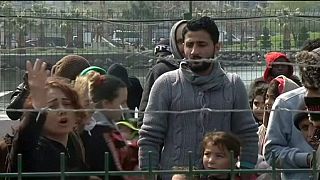 After the agreement comes the reality of the EU's deal with Turkey to stem the flow of migrants. Some 200 people, mostly Syrians were caught by the Turkish Coast Guard attempting the dangerous journey across the Aegean as the controversial deal came into force.
As they were ushered into a registration centre in the coastal town of Dikili they had one request, 'Let us out'.
It is hoped the agreement would deter migrants from taking the dangerous route, but many still arrived in the early hours of Sunday.
"I am coming here, I want to go to Denmark and complete my studies," Syrian Hussein Ali Muhammad. "I worked very, very hard work in Turkey, I collected the money for.. I come here, coming here. After that … I go back to Turkey ? It's very, very dangerous and very, very… not good."
The deal struck on Friday means that migrants who arrive on Greek islands from the Turkish coast would be sent back to Turkey, while one Syrian already in the country would be resettled within the EU.
But with the route across the Aegean closed, it may just be a matter of time before another, more dangerous route opens.