Refugees could be returned from Greece to Turkey as soon as Sunday under new EU deal
Comments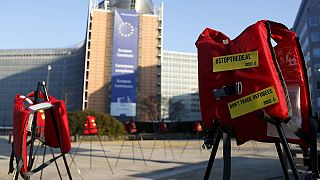 EU leaders and Turkey's prime minister have approved a controversial deal on refugees which will see all migrants arriving in Greece from Sunday onwards being sent back to Turkey.
The EU in turn will resettle thousands of Syrian refugees directly from Turkey.
In return for Turkey's help the country has the chance of visa free travel for Turks to Europe by June and a speeding up of negotiations on EU membership.
"It was not only a success story because of the results, but also because of the methods: we shared our views, we shared our concerns, we shared our perspectives and vision. " Turkish Prime Minister, Ahmet Davutoğlu, told reporters, adding "And we today realise, that Turkey and the EU have the same destiny, the same challenges and the same future."
German Chancellor, Angela Merkel, warned the implementation of the plan would not be easy. "I don't have any illusions with what we decided today, there will also be setbacks, because we have major logistic challenges to meet now," she said.
Cyprus had threatened to block the deal, but finally obtained guarantees that sensitive parts of EU-turkey accession talks will not yet be opened.
"I do believe and expect that they will practically help in the negotiating process and in our own effort to find a lasting and peaceful solution for the Cyprus question," said President of Cyprus, Nicos Anastasiades,
There are warnings of possible chaos ahead of the implementation on Sunday with refugees likely to make a final push to enter Europe via Greece.