EU and Turkey agree migrant deal
Comments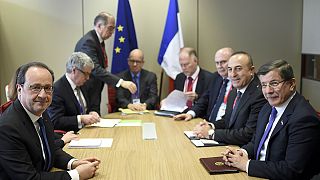 A deal has reportedly been agreed in Brussels between EU leaders and Turkey aimed at resolving the continuing migrant crisis.
There are no substantive details yet, however it is claimed the main areas of disagreement have been resolved.
It is understood the stalled talks on Turkey's bid for EU accession will be kick-started, with chapter 33 being opened by June at the latest (financial and budgetary provisions)
Ankara will also provide a concrete plan of how it will spend the 3 billion euros the EU handed over last November.
The deal with come into force on March 20th.
There has been no official announcement yet. The European Council is due to meet a 1600 to sign the deal.