Sharp rise in new migrant arrivals to Greece despite EU-Turkey deal
Comments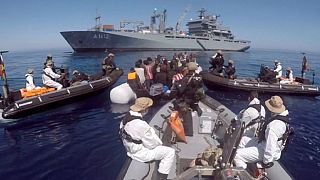 The number of migrants and refugees landing on Greek shores has risen sharply, just days before Turkey is due to start taking back those arriving illegally, under a deal with the EU.
Greek authorities recorded 766 new arrivals between Tuesday morning and Wednesday morning, up from 192 the previous day. Most arrived on the northeastern Aegean island of Lesbos.
Many migrants and refugees are still hoping to make it to nothern Europe, despite closed borders in the Balkans and returns set to start on Monday.
Under the deal in effect since March 20, migrants and refugees who arrive in Greece will be subject to being sent back once they have been registered and their individual asylum claim processed.
Syrian refugee Kinan welcomes newly arrived refugees on shores of Lesvos, Greece. #actofhumanitypic.twitter.com/PZDUXpMmPS

— UNICEF (@UNICEF) 30 mars 2016
"We are monitoring the situation but we believe we have to give it some time because the picture is not clear," euronews was told by Giorgos Kyritsis, the Greek government spokesman on refugee affairs.
"There have been days when we have had minimal refugee flows and other days when more than 1,000 people have arrived. Of course, if we have 1,000 people arriving every day, obviously the implementation of the agreement with Turkey will be more difficult."
More that 51,000 refugees and migrants, among them Syrians, Afghans, Iraqis and others fleeing conflict, are currently stranded in Greece, blocked from pursuing their journey.
Syrian sisters, staying warm, and waiting at Idomeni on the Greece / FYRoM border #Europepic.twitter.com/dihlsIt8Qx

— UN Refugee Agency (@Refugees) 29 mars 2016
But as one door might be closing, Italy reported a jump in arrivals on its shores. On Tuesday, officials said that 1,350 people – mostly from Africa – were rescued from small boats, taking the longer migration route over the Mediterranean.
Many fear the number of migrants trying to reach southern Italy by sea, relatively contained so far this year, will increase as sailing conditions improve in warmer weather.
According to the French government, some 800,000 more migrants are currently waiting in Libya to make the crossing to Europe, in the hope of a new life.
Check out "Where We're From" interactive app that lets you track #migrants in every country https://t.co/nBuRl8304Upic.twitter.com/3m0iPJMQDu

— IOM (@IOM_news) 30 mars 2016