Brussels: three days national mourning underway
Comments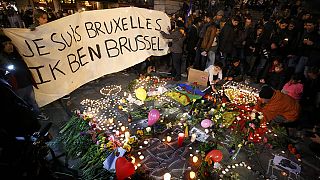 Brussels is a city in shock.
Hundreds of people gathered on Tuesday evening (March 22) at the city's Place de la Bourse to honor the memory of those killed in the latest terror atrocity on a European city.
"I really want to share the pain," Italian student Maria told euronews. She added, "Even if it's not my country, not really my people. I feel this is my country, I feel this is my city, I know all the places and even if I do not know anyone around here I feel we are living in the world that this all concerns us."
"You can't let these acts defeat you," said another person "We are all very shocked about what happened. This threat has been hanging over the city. Now it's happened, we've feel shocked, but hey, we are trying to stay strong."
"We are not afraid," said Emmanuele. "We stand together. There could be another one now, we are not afraid. We're here, we will fight, we will stay here. They will try to take our freedoms, and our way of life, but we will not change."
The city's Place de la Bourse has become a place of reflection and solidarity as three days national mourning get underway.